Card types
The Apto platform supports debit and is capable of operating on the Visa or Mastercard networks. Apto can provide cards that are physical or digital only. No matter what you order, cardholders can start using their cards right away.
Physical cards​
Physical cards are the standard payment cards we carry with us in our wallets. Apto allows you to design and issue contactless cards. To use a physical card for contactless payments, cardholders must first complete a chip transaction. The Green Program offers a range of color options to combine with your logo. Blue or Orange Programs allow for even more flexibility.
By default, all our cards display the cardholder's Primary Account Number (PAN)—which identifies the card network, the issuing bank, and the cardholder's account—an expiration date, and a CVC, which is the three-digit number that is used in online purchases. This information is available to the cardholder through the PCI SDK immediately upon card issuance. In this sense, they operate somewhat like digital cards. See card activation for more details.
Digital cards​
Digital cards are equivalent to physical payment cards, but can be used in any kind of transaction immediately upon issuance.
By default, digital cards issued through the Green Program are "multi-use" meaning they can be used repeatedly.
In Blue or Orange Programs, you can also create single-use digital cards with a unique card number for a specific, individual transaction. You call our API to issue the card and generate the card number and, when the transaction is complete, call our API again to deactivate the card number. Used this way, single-use cards prevent the exposure of your cardholder's actual account details to the merchants they transact with. Single-use cards are only funded at the time of use and are easily reconciled with your ledgers.
Card design​
Apto is committed to working with you to design the best looking card for your program.
Green Program card designs​
In the Green Program, you have several options for card color and can add your own logo. You'll design your cards during account activation.
Color choices​
| Style | Color | Hex | CMYK |
| --- | --- | --- | --- |
| Light | White | #F9F6EF | 1 2 5 0 |
| Dark | Black | #191D23 | 78 69 60 73 |
| Dark | Grey | #4E5C54 | 67 49 61 30 |
| Dark | Green | #57BD84 | 65 0 65 0 |
| Dark | Coral | #F4805C | 0 62 66 00 |
| Dark | Indigo | #2C4866 | 90 72 40 22 |
| Dark | Blue | #0091C7 | 80 30 5 0 |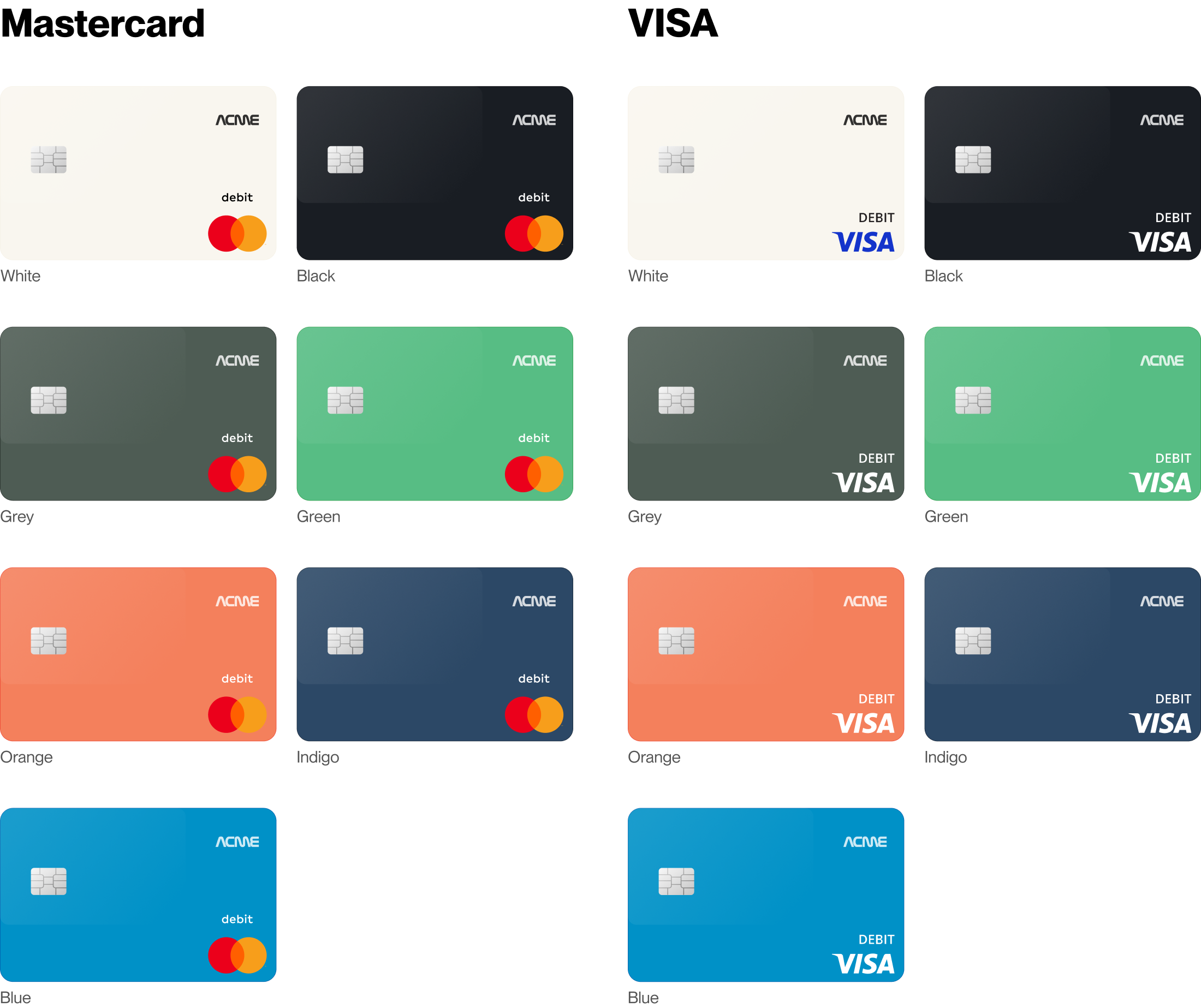 Logo design​
If you choose to include a logo, it must be a .PNG file with a transparent background. We recommend the logo be either white or black to ensure optimal contrast with the underlying card color. If you submit a logo with a different color, you should ensure that the accompanying CMYK value still looks appropriate. The .PNG file should have a minimum size of 168 x 132 pixels (14mm x 11mm at 300 DPI).
Your logo will be positioned in the top right corner of your physical cards. To maximize the size of your logo, do not manually add padding. We automatically center your logo and stretch it to fill the available space.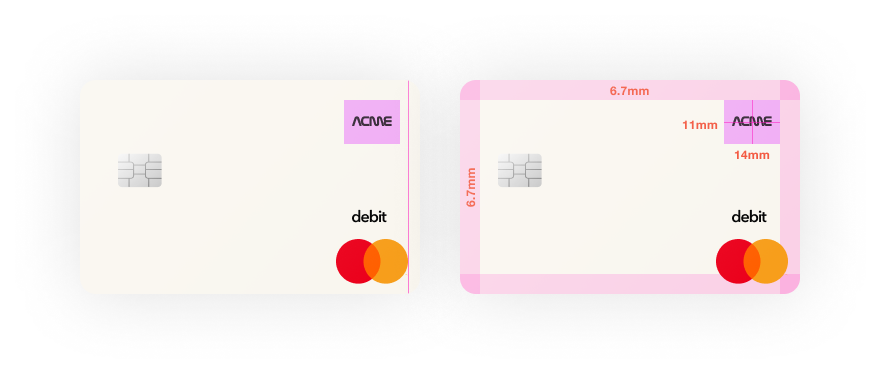 Your logo should be sized to maintain its aspect ratio when scaled to fit within the logo area (shown in red below), and should be horizontally and vertically centered.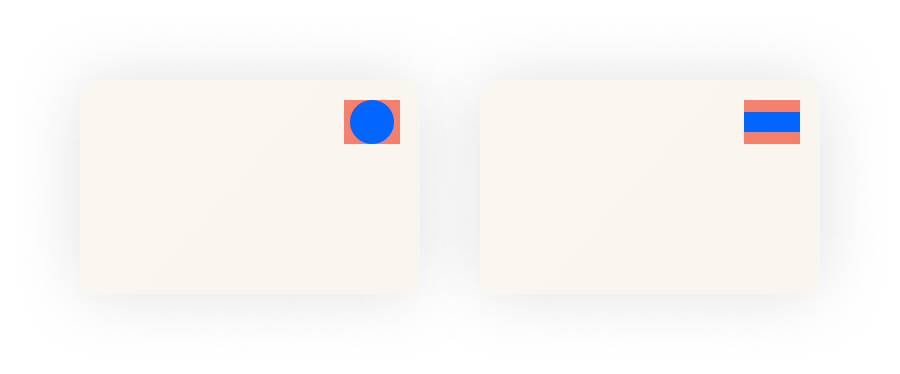 For optimal contrast, you should submit a black logo if you choose a light background or a white logo for a dark background.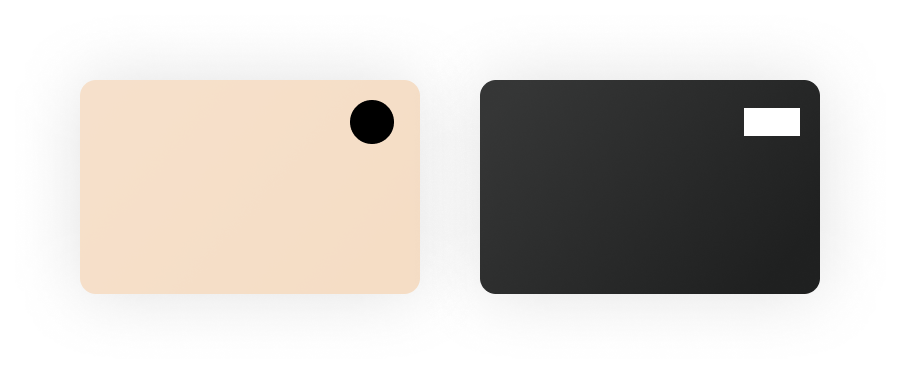 Logo review​
All logos are subject to review and must pass our guidelines. Logos must be your own, adhere to Mastercard or Visa's design guidelines, as well as that of the issuing bank,, and be free of illegal, controversial, offensive, or profane images or references.
If a logo does not pass our review process, we will explain why. You can submit another logo for approval. After your logo passes our review process and your application is approved, you can switch to production to begin issuing live cards.
Card details​
Physical cards display the Mastercard or Visa network logo and debit identifier on the front.
We print the cardholder's name, Primary Account Number (PAN), CVC, and expiration date on the back of the card. The cardholder can also view these details in the mobile app.
In addition, all Apto cards on the Mastercard network also display the following issuer statement:
Cardholder, by use or permitting use of this card, agrees to the terms and conditions on the Cardholder Agreement. The Apto card is issued by Patriot Bank N.A., Member FDIC, pursuant to a license from Mastercard U.S.A. Inc. For Customer Service, contact Apto at 1-855-459-0326.
The cardholder name, PAN, CVC, EXP and Issuing Statement are printed with white [#FFFFFF] text when displayed on either of the four light background and black text [#000000] when displayed on either of the two dark backgrounds. The issuing statement is printed in the same color at 50% opacity.
All text is Helvetica Neue normal weight font with the following sizes:
Issuing statement: 5px
Cardholder name: 11px
PAN, EXP, and CVC: 8px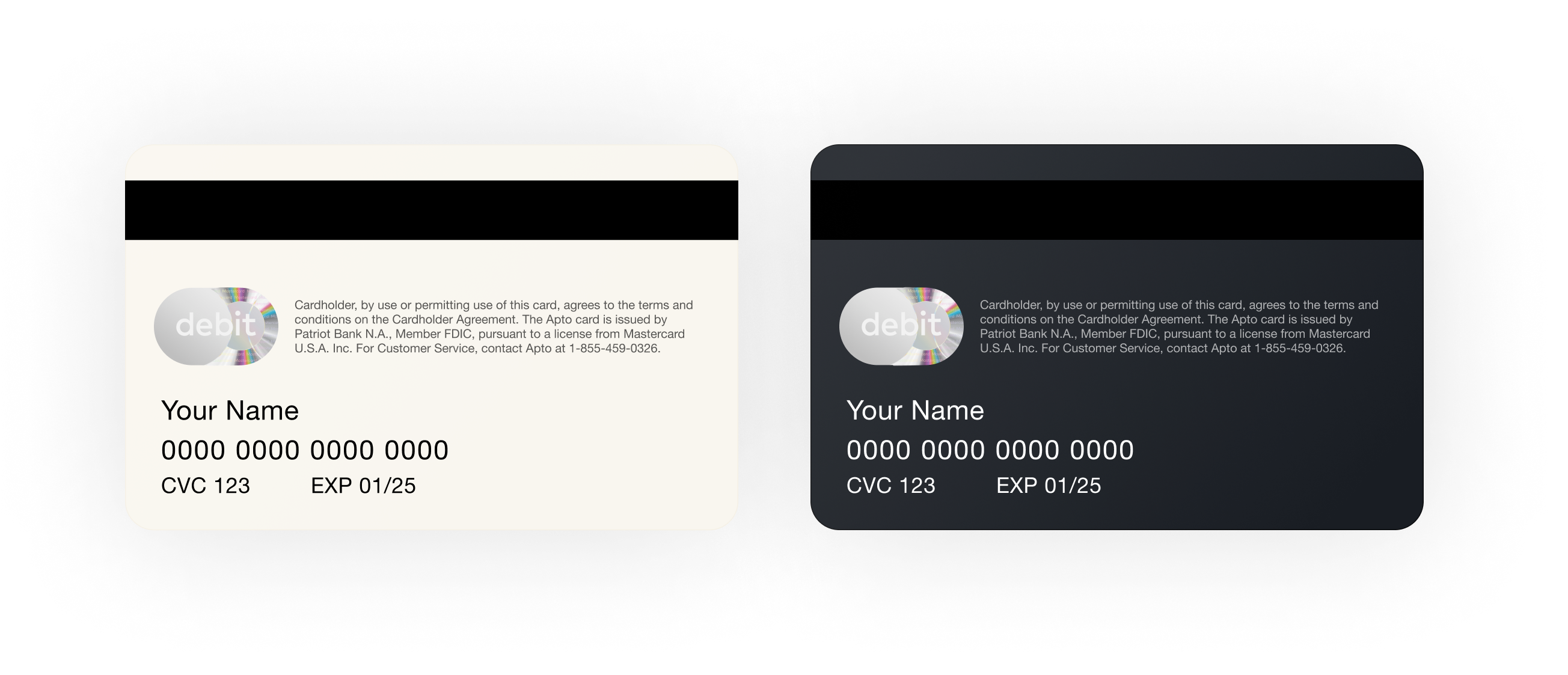 Digital wallet card art​
In the Green Program, your physical card art will not match the digital card art displayed in your cardholders' Apple or Google wallets.
Due to constraints imposed by the card network and digital wallet providers, your digital wallet card art will not display your company's logo. All digital wallet card art will simply show the Mastercard or Visa logo, debit identifier, and the default Apto design color (White: #F9F6EF).
This only relates to digital card art displayed in the user's mobile wallet. You remain free to upload the accurate digital rendering of your physical cart art within your mobile application using our SDKs. In our example app, we've set the background color of the card image displayed as Black (#191D23).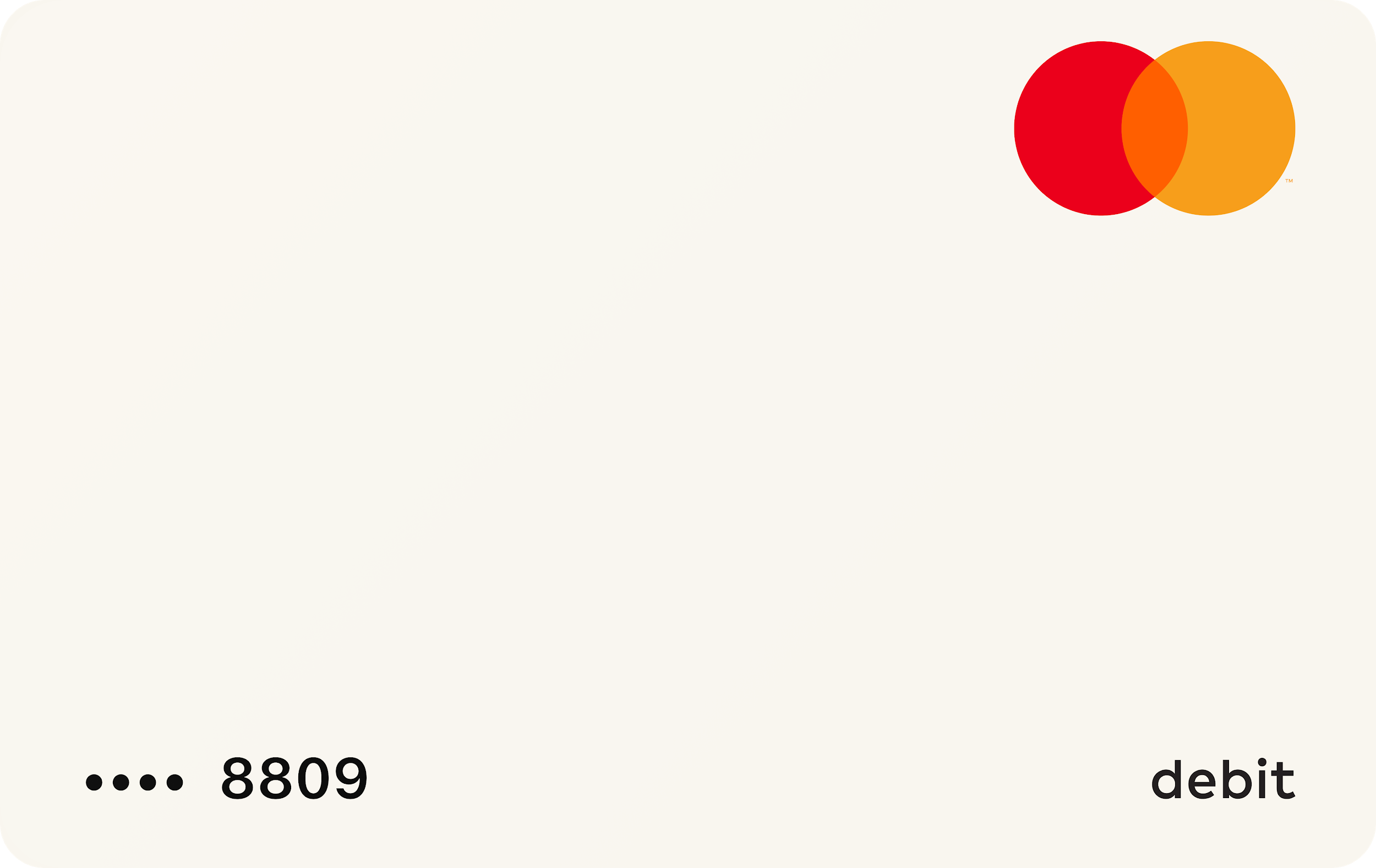 Upgrading your card art​
We recommend getting started with the Green Program regardless of the final integration you envision with Apto. It's the fastest way to begin issuing cards. If your program gains traction, contact us and we can initiate the process to migrate your Green Program to one of our Blue or Orange Programs BIN range. You'll have the option to refresh and completely customize your physical card art, and submit the necessary approvals to ensure the digital card displayed in your cardholders' Apple and Google wallets aligns.
Card carrier​
Physical cards will be shipped to your users in a card carrier envelope. This carrier will contain the physical card, the card's activation code, the issuing statement and the name of your program. It will be a simple black and white design.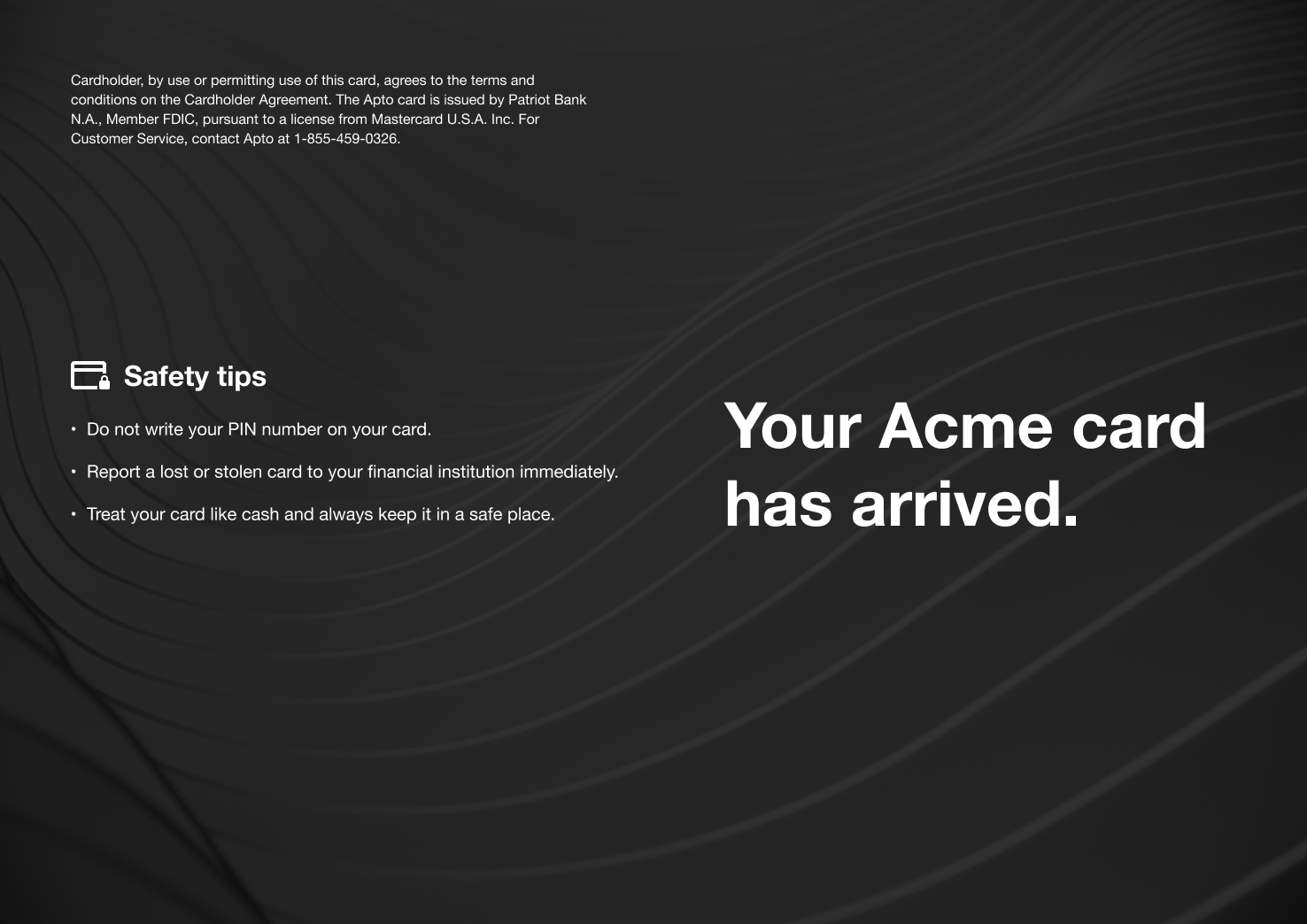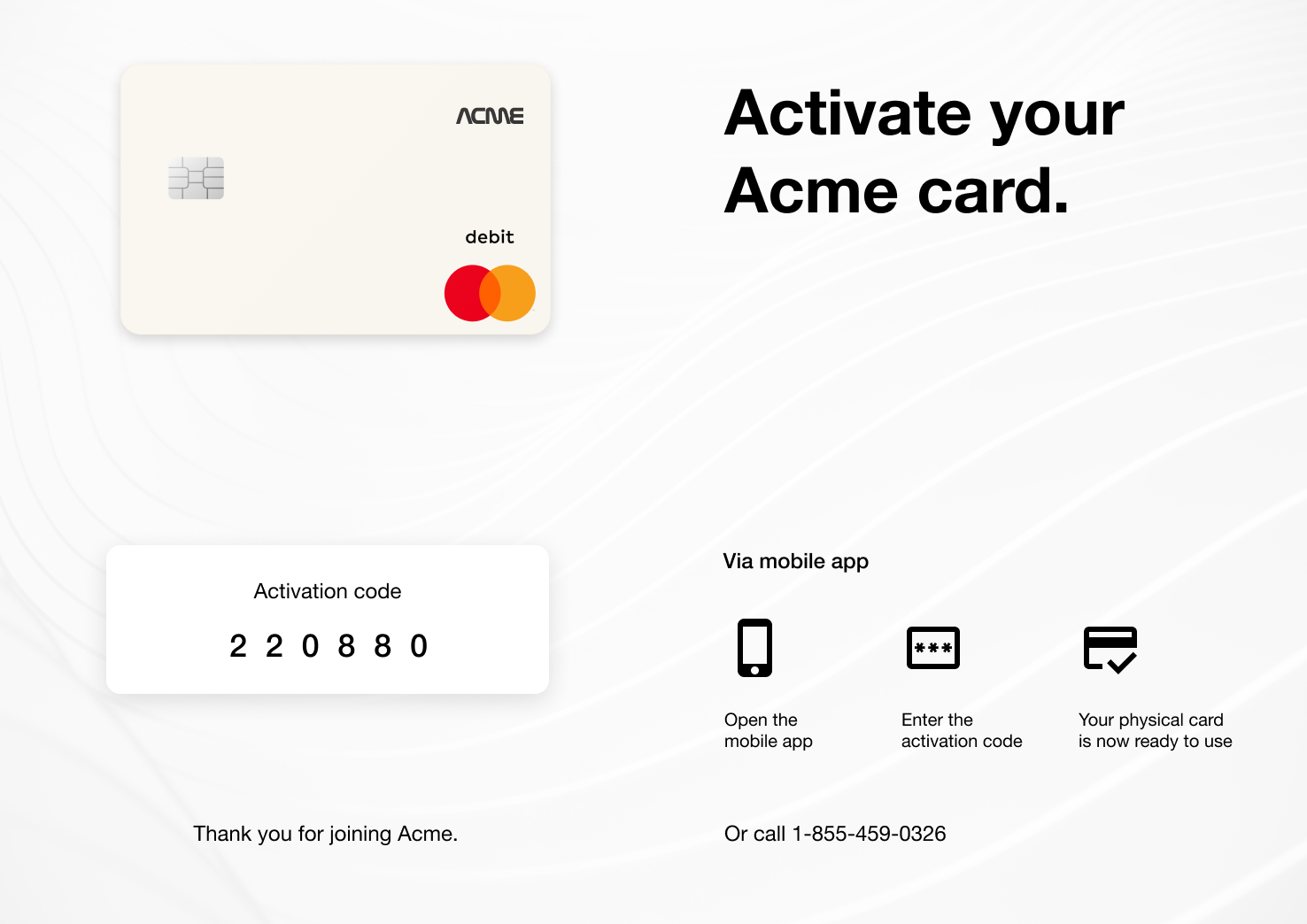 Custom card designs​
If minute, pixel-perfect control of card art is essential to your brand identity from day one, we can make that dream come true within a Blue or Orange Program. We work with a number of fulfillment vendors, including printers that offer low cost on-demand printing. If you want something of especially high quality, you would purchase card stock and they would print it for you, with a minimum of 1,000 cards. Cards are customizable and you have total control over card design, subject to bank, printer and network approval. Apto can send you samples as we get further into the process. Please contact a Program specialist to learn more.
Card fulfillment​
If your applicant passes all necessary compliance tests, physical cards typically take 3-4 business days to print. Cards are mailed via the USPS and typically take 5-7 days to arrive at the cardholder's address when sent with standard shipping, or 2 days when sent with express shipping. Cards are shipped individually. Please contact a Program specialist to learn about bulk shipping or express shipping.
Card activation​
Digital cards are activated when they are created, and are available to use immediately. When physical cards are issued, the cardholder is given the card number immediately to use in card-not-present (e-commerce) transactions and in digital wallets for POS signature transactions while the card is being printed and delivered. Card numbers for physical cards are not available for card-present transactions until the cardholder receives and activates the physical card.
note
To activate contactless payment, cardholders must first complete a chip transaction with the physical card.
For security purposes, physical cards are blocked from use until the cardholder activates the card. Apto provides two mechanisms for doing so:
Activate via mobile app: Apto provides an API endpoint that can be called by the mobile SDK. This allows the cardholder to authenticate themselves and activate their card from within the mobile app upon receiving the card.

Activate via phone: The cardholder may also call Apto's automated card activation line. During this call, the cardholder is prompted to confirm their registered phone number and the last 4 digits of the card number. The first step is not necessary if the incoming call is recognized as the registered phone number. If the initial verification fails, the cardholder is prompted to enter additional data such as the last 4 digits of their SSN, the ZIP code where their card was received, or their date of birth. The additional identifying information is configurable during program setup. If this additional verification fails, the call is transferred to Customer Service.
When the cardholder is verified, their card will be activated, and the cardholder will be prompted to set a 4-digit security PIN.